If you're a streamer, podcaster, or video maker in search an audio mixer then you've come to the right place.
A mixer is an essential piece of gear for anybody who streams. They allow you to process and control your audio on the fly with various faders or knobs.
Additionally, most modern mixers include a host of other features and functionality that go far beyond that…
In this post, we will cover the best mixers on the market right now for a variety of streaming situations.
---
What Is the Best Audio Mixer for Streaming?
9. Roland GO:MIXER PRO-X
No. of Channels: 4
Connection: USB
Dimensions: 6.1 x 4.1 x 1.6″
The Roland GO:MIXER PRO-X is a palm-sized audio mixer for smartphones. Designed to create music videos, podcasts, and live streams on the go; it turns any mobile device into a remote video production system capable of high-quality recordings.
The device itself has eleven inputs in total. Seven of these are professional inputs to connect XLR/ 1/4-inch microphones, musical instruments, and any other kind of audio gear. Additionally, four are input connections. They include two stereo line inputs, a TRRS four-pole jack, and a micro USB port.
For audio gear, the PRO-X is ideal for connecting things like keyboards, DJ controllers, or guitars. All these separate audio signals can then route through the mixer and straight into the phone as one single signal. The signal is then sent to your favorite streaming platform upon going live.
Five dials on the top of the device make it easy to adjust the gain of each audio signal. Powering the gain is four AAA batteries; however, you can also use an external power bank (or a USB-C plug) for some extra juice. This is necessary if you want to run a condenser mic off 48V phantom power.
Surprisingly, the PRO-X packs plenty of gain to power most dynamic microphones and instruments. During testing on a YouTube live stream, all our sources had more than enough volume, without any of the knobs up 100%. As a result, you won't have any concerns or complaints In this regard.
Obviously, with a device this small there are a few cons. For starters, there's no way to adjust microphone EQ or compression on the device itself. Moreover, the headphone output is lacking its own gain. Due to this, you may need to attach a headphone pre-amp in noisy environments.
All in all, GO:MIXER PRO-X is the best audio mixer for live streaming on your phone. It's perfect for IRL streamers, musicians, and video makers wanting to up their production quality remotely.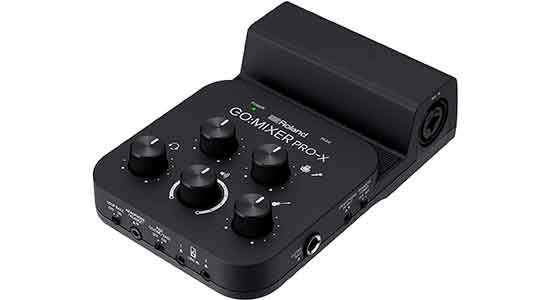 ---
8. Elgato Wave XLR
No. of Channels: 1
Connection: USB
Dimensions: 3.5" x 4.7" x 3.3"
The Wave XLR is a USB audio interface with mixer controls. Built to function as an external pre-amp, it provides up to 75dB of gain for dynamic mics as well as 48V of phantom power for condenser mics. Additionally, it allows all types of microphones to benefit from the powerful Wave Link software.
The actual design of the device is relatively simple. On the back there's a standard XLR input, a 3.5mm headphone jack, and a USB Type-C port for connecting to your PC. Moreover, on the top is a tap-to-mute capacitive sensor. Then, there's a giant multi-function knob on the front.
The multi-function knob lets you adjust levels for your mic gain, headset volume, and your mic and PC mix, too. Switching between channels involves giving the knob a quick press, which subsequently lights up its LED indicator below. Alternatively, a long press will turn on/ off phantom power.
Another huge selling point of the Elgato Wave XLR is the functionality of its software. Wave Link lets you add up to nine hardware or software audio channels and crossfade their volumes independently into sub-mixes. This makes controling your in-game chat volume levels a breeze.
Most mixers have a reputation of being overly complicated and generally too much for people's needs. However, this isn't the case with the Wave XLR. It works as a plug-and-play solution that's simple to set up. As a result, it's ideal for those who fancy a quick, spontaneous stream.
Admittedly, there are a few cons to the Wave XLR too. For starters, it is only a one-line interface so If you want to dual-stream with two people on one device, then this would be hard. Moreover, unlike the GoXLR Mini, it is lacking a line-in/ out. Therefore, it's not suitable for dual PC setups.
Overall, if you don't need a lot of faders and buttons, the Wave XLR is a fantastic budget audio interface/ mixer for streaming. It provides studio-grade audio quality and only takes up inches of space on your desk.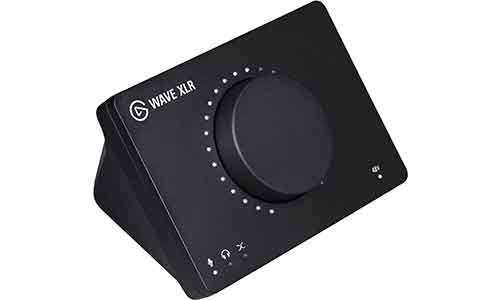 ---
7. Presonus Revelator IO24
No. of Channels: 2
Connection: USB
Dimensions: 6.3" x 6.3" x 2.5"
The Revelator IO24 is a multi-purpose USB interface designed for both streaming and recording. While it can serve as a standalone interface, it can also draw upon the features and functionality built into its onboard DSP. These features include virtual routing, a loopback mixer, and podcasting effects.
In terms of the design, the IO24 is sleek and clean in its presentation. All buttons are backlit and the main dial has a subtle blue ring of LED lighting. Moreover, measuring 6.25 x 6.25 x 2.5 inches, the box is quite compact, with a trapezoid shape that can easily mount to the underside of a desk.
Input and outputs are on both sides of the device. Starting from the front-left, there's a pair of XLR 1/4-inch jacks, two configuration buttons, preset buttons, and a clickable rotary encoder. Moreover, in the middle is an LCD screen. This provides useful information about the inputs you select.
The rest of the inputs and outputs are on the back. Here you'll find a USB Type-C port, a MIDI in/ out, two 1/4-inch stereo speaker outputs, and a 1/4-inch headphone jack. Although the essential I/Os are there, admittedly it is lacking auxiliary and optical inputs for certain streaming situations.
As for the rotary encoder, this has two functions. Not only does it act as a quick volume adjustment but pressing it in also allows you to make selections on the LCD screen. These selections include the ability to turn on and off 48-volt phantom power and engage the high pass filters for the inputs.
The integrated DSP mixer (with a fat channel) is where all the magic happens. Here you can add a filter, gate, compressor, equalizer, and limiter to the inputs that run on the device itself (as well as a few voice effects); all without running specialized software and wasting time on VST plugins.
Finally, after setting the DSP (digital signal processing) parameters up the way you like, you can save them into a preset. The presets are then accessible via the two preset buttons at the front of the panel where you can quickly jump between them.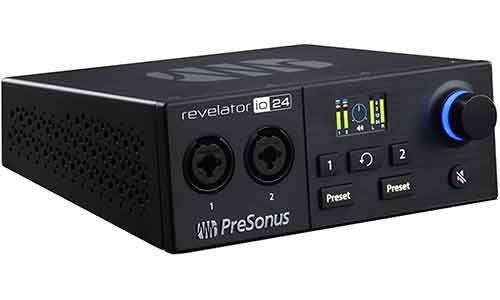 ---
6. TC-Helicon GoXLR Mini
No. of Channels: 4
Connection: USB
Dimensions: 6.6" x 5.2" x 2.8"
The GoXLR Mini is a trimmed-down version of the full-size GoXLR – but with some minor tweaks. At less than half the size (and price), it shreds both the FX voice changer and playback sampler. However, it retains its high-quality preamps, onboard processors, and exclusive software.
Interface
Losing the voice changer and sampler is not going to be such a big deal for most streamers – especially those who just need the functionality of a mixer. Most importantly, the Mini still provides the ability to route and adjust individual audio sources on the fly, whether this is inputs or outputs.
Much like the multi-channel interface (of the full-size GoXLR), the Mini features four sliders with mute buttons under each. Additionally, there's a mic mute button and a bleep button. One difference is that the Minis' sliders are not motorized but apart from that, the functionality is practically the same.
Inputs
To make the Mini more convenient to use, GoXLR has repositioned the 3.5mm headphone and microphone jack onto the front of the device. The rest of the I/Os are on the rear. Here you'll find an XLR input, a 3.5mm line in/ out, a USB input, and an optical-in for use with a console.
Having a 3.5mm line in/ out is perfect for streamers with a dual PC setup and something you won't find on the similarly priced Elgato Wave XLR. All you need is a couple of 3.5mm cables to get everything up and running. Alternatively, you can use these inputs for connecting to another GoXLR.
Software
For audio sources and sub-mixes, we particularly like that the GoXLR Mini adds five virtual output devices, plus the hardware mic-in, line-in, and optical-in. Much like the full-size GoXLR, you can then flexibly route and re-map all of these inputs to the faders from within the native software.
The software gives you almost the same level of control over your audio as its larger brother, too. On the mic tab, there's a noise gate, compressor, and EQ settings. As a result, you can fine-tune your voice to be clear, clean, and consistent to get it sounding exactly the way that you want.
Audio quality/ Power
Finally, with the same Midas preamp (that has +72db of gain), the GoXLR Mini packs just as much power as the full-size GoXLR. We found it has no problems pre-amping the heaviest mics on the market right (even at +60db) – all without adding any extra-unwanted hisses or noise.
Currently, the GoXLR Mini is the best budget audio mixer for streaming. It features the most useful bits from the full-size GoXLR at less then half the price.
---
5. Razer Audio Mixer
No. of Channels: 4
Connection: USB
Dimensions: 6.1" x 4.5" x 2.2"
The Razer Audio Mixer is a modern-day version of the GoXLR Mini but with a few extra quirks taken from the full-size GoXLR. Similarly, it features a four-channel interface (with sliders), six buttons, and a built-in preamp (with an XLR input) that also allows for 48V of phantom power.
Physically, the Razer Audio Mixer is almost identical to the GoXLR Mini, though it is a bit slimmer and sleeker in its overall size. The bevels aren't quite as chunky and the footprint is roughly 10% more compact. Due to this, it takes up less space on the desk, which some people might prefer.
Interface/ Inputs
Much like the GoXLR Mini, the interface consists of four-volume slide faders and six buttons beneath. The buttons include four-channel-mute buttons, a mic mute button, and a bleep button. Apart from the mute/ beep buttons being almost double the size, there's not much difference here.
There's not much difference in the I/Os, either. On the front of the device is a powered 3.5mm headphone jack. Moreover, on the back, you still get an XLR input, a line in/ out, and an optical-in. The only two updates to the rear are a dedicated phantom power button and a USB Type-C port.
Unlike the GoXLR Mini, the microphone mute button does have a special trick. Holding this down for two seconds activates the pre-configured voice changer effect. That provides a way to transition between voice effects and non-voice effects for when you fancy breaking out the memes.
Software
All voice changer effects and EQ settings are customizable from within the Razer software. Here you can choose from four preset settings including Cartoon, Monster, etc., or make your own. You can then program that effect to the mute button turning it into a one-button soundboard.
The software's RGB customization is another quirk you won't find on the GoXLR Mini. This provides an opportunity to personalize the colors of the channels as well as the mute buttons themselves. Personally, we quite like this as makes it that much easier to identify your channels and actions.
Of course, the Razer software gives you full control over your channel mapping and microphone settings too. The profile page lets you adjust the mic settings, such as the mic EQ and turning on mic monitoring/ compression. On the whole, the Razer software is not bad but the GoXLR software is a bit more polished.
Audio quality/ Power
We have to say that the audio quality between the two units is indistinguishable. When testing the same mic on both devices, the recording quality was just as high and more or less comparable. For specs, you're looking at a 10 Hz to 20 kHz frequency response and a 110dB Dynamic Range.
For budget streaming, the Razer Audio Mixer competes head to head with the GoXLR Mini. If you're eyeing up the GoXLR Mini but would prefer an updated with some extra features (Voice changer + RGB) instead, then we can also recommend this slightly more expensive option.
---
4. AVerMedia Live Streamer NEXUS
No. of Channels: 3
Connection: USB
Dimensions: 5.7" x 8.5" x 3.7"
The AVerMedia Live Streamer Nexus is a touchscreen control center and audio mixer for content creators on platforms like YouTube or Twitch. Think of it as a fusion between two of the most popular bits of streaming hardware: the Elgato Stream Deck and the TC Helicon GoXLR.
The Nexus measures 5.7 x 8.5 x 3.7 inches and sits on the desk at an ergonomic angle, with or without its magnetic stand. Unfortunately, the stand is non-adjustable so you can only lock the angle into two viewing positions. Nevertheless, this shouldn't really be an issue for most people.
Interface
A five-inch IPS screen with a CTP touch panel takes up most of the interface. Moreover, to the right of this are four large dedicated touchpads that function similarly to the Steam Decks LCD keys. Then, along the bottom are six clickable audio dials for things like your Microphone, Game, and Chat.
Physically, the touchpads do feel a little cheap. For instance, they don't depress evenly and instead sort of lean towards the direction you press them. However, the audio dials are much better. They have a nice, firm click and pleasing tactility as they adjust in increments of five.
In contrast to the audio dials, the IPS screen and function buttons are fully customizable. Using the Nexus app, it's possible to personalize them as you like. The software allows you to drag and drop widgets onto different parts of the screen, and add hotkeys to each of the touch buttons.
Software
We particularly like that AVerMedia has included a whole list of widgets that make the IPS screen functionality quite excellent. Much like the Stream Deck, it lets you assign system shortcuts on multiple pages like website links, sound files, and add hotkeys, etc.
One of the biggest benefits of the IPS screen is the ability to use it as an actual screen. For instance, you can drop widgets such as your Twitch/ Discord chat (and other apps) and then display them in real-time. This is especially useful for gamers streaming from a single monitor.
On the audio mixing side of things, the Nexus supports six separate audio tracks (3 physical, 3 virtual) with knobs for each. Additionally, it supports dual independent audio mixes for the creator/ audience. As a result, you can fine-tune your levels and EQ settings in an optimal way.
Power/ Inputs
In terms of audio, the Live Streamer sounds great (not distorted, or with static). It boasts a sampling rate up to 96 kHz, 24 bits, with a 10Hz to 20 kHz frequency response and 114 dB of dynamic range. Moreover, to amplify XLR mics you'll be glad to know that +48V phantom power is present.
Finally, all I/Os are on the back of the device. This includes a USB-B optical port, a 3.5mm line in/ out, a 3.5mm headphone, and an XLR input. Having the 3.5mm ports instead of L/ R jacks is ideal for non-professional streamers. That means you can use consumer headphones and mics without adapters.
All in all, the AVerMedia Live Streamer is a nifty bit of gear that integrates the Stream Deck and GoXLR functions into one unit. Although it is a little finicky, it's still a great modern USB audio mixer for beginners new to Twitch streaming.
---
3. Tascam Mixcast 4
No. of Channels: 8
Connection: USB
Dimensions: 10.5" x 14.7" x 2.8"
The Tamcast Mixcast 4 is a one-stop, podcast studio mixer that closely rivals the legendary RODECaster Pro. In the same way, it acts as a built-in recorder/ USB audio interface designed to make creating podcasts super easy from pre-production to post.
Interface/ Inputs
With eight faders, eight sound pads, five headphone/ monitor dials, record buttons, and a touch-screen LCD; the interface is very similar to the RODECaster Pro at a glance. The obvious difference is that the LCD is now on the right-hand side and that Tascam has given it a bump in size.
Apart from that, the interface does feature a few extra useful buttons. Dedicated mark and stop buttons are now present next to the record button, which only existed on-screen on the Pro. In addition, Tamcast has included a Talkback button for sending non-recorded instructions to guests.
The inputs and outputs on the back of the device don't stray too far either. You have the same number of microphone inputs, inputs for remote devices (USB/ TRRS/ Bluetooth), and independent headphone/ monitor inputs. A nice upgrade though is that the mic inputs instead use combo jacks.
Build quality, LCD functionality, and software
The key differences between the two units mostly boils down to three areas: the build quality, the LCD functionality, and the software. For the build, we have to say that the Mixcast 4 is a little inferior to the RODECaster Pro. In particular, it uses more plastic and the pads don't feel quite as nice.
On the plus side, the Mixcasts LCD provides updated functionality. To help guide you through the recording process, the menus are clearer. Additionally, initiating playback during streams, adding auto-mixing functions, and saving file names to the ends of recording are all entirely possible.
The software is the third big difference between the two devices, and another real reason for choosing the Tascam over the RODECaster Pro. This is because the Mixcast 4 already includes its own podcast editor software so you won't have to go out and buy Adobe Audition on top.
The Tascam's podcast editor software offers a complete solution. It includes both waveform editing and sound pad control, and features a nice selection of built-in plugins that you can apply to your audio. Additionally, it allows you to split waveforms, combine takes, and add fades etc.
Audio quality/ Power
Finally, in terms of power and audio quality, this is comparable. The gain range for the Mixcast 4 is 66.5dB, which is slightly higher than the 55dB range of the RODECaster Pro. However, we do think that the built-in Aphex audio processing does sound marginally better on the RODECaster Pro.
Overall, the Tascam Mixcast 4 is a fantastic control center that works wonders for podcasts. Established Twitch streamers and YouTubers who regularly do interviews can really benefit from this feature-rich audio mixer.
---
2. Rode RODECaster Pro
No. of Channels: 4
Connection: USB
Dimensions: 17.0" x 14.0" x 5.0"
The RODECaster Pro is a fully integrated podcast production studio. Designed to simplify live broadcasts, it can either serve as a standalone device (with the ability to record internally) or as an audio interface with the ability to stream directly to a computer through software.
Interface/ Functionality
Much like the full-size GoXLR, the RODECaster Pros comes packed with an expansive list of controls and features that you won't find on a standard mixer. For controls, the interface includes eight faders, five dials, an LCD touchpad screen, eight sound pads, as well as a record button!
Four of the channels are for high-quality XLR mic channels. Two channels are for connecting mobile devices via a TRRS jack and Bluetooth. One channel is a class-compliant USB interface for playing back audio from your PC. Lastly, one channel controls the volume of the sound pads.
The two channels for connecting mobile devices (e.g. a phone, tablet, etc.) are particularly useful for broadcasting without a PC. They allow you to bring in music/ audio from other devices straight into your podcast. Additionally, they provide an easy way to bring voice calls in to the podcast via apps.
The five dials include four volume controls for headphones and a master volume control for speaker inputs. That gives you effortless control over any guest's headphones, as well as any speaker monitors you might want to use with this mixer at a live streaming event.
The touch screen LCD is how you can elevate the quality of your voice for you and your guests. After selecting the XLR mic channel that you want to adjust, simply head into the interactive menu. From here, you can tweak the compression and turn on several audio features.
Finally, the eight sound pads are the icing on the cake, letting you instantly fire off cheesy sound effects. They come with a bunch of preset effects, but adding new ones is also a breeze. Using the software, you can simply drag audio files onto the squares and even customize the lighting for each.
Software/ Power
We like that the audio features include Aphex Aural Exciter and Big Bottom. If you are unfamiliar with these, the Aphex Aural adds a bit of top-end sheen to a signal and introduces detail and clarity into the recording. Moreover, Big Bottom gives some extra punch and depth to the bass.
The features work spectacularly on voice recordings and allow you to start your stream with minimal fuss. Furthermore, the audio quality sounds crystal clear, and the preamps have plenty of power, too. With 55dB of gain range, it has no issues powering hard-to-drive mics like the Shure SM7b.
Overall, the RODECaster Pro is a highly capable piece of gear with a fantastic design. For podcasting, this audio mixer is as good as it gets (but not so much for live streaming games).
---
1. TC-Helicon GoXLR
No. of Channels: 4
Connection: USB
Dimensions: 6.61" x 5.2" x 2.76"
The GoXLR is an intuitive, all-in-one audio streaming platform for broadcasters online. Built to revolutionize the way gamers take control of their streams, it offers a wide variety of functions and features that were only previously possible with multiple pieces of hardware.
Interface
The functions include a multi-channel mixer, an FX voice changer, and a sampler. Ultimately, they determine the design of the interface itself, with the multi-channel mixer on the left-hand side and the voice changer and sample buttons split horizontally on the right.
The multi-chancel mixer includes four assignable faders with associated LED screens above and mute buttons below. We especially like that all of the sliders are motorized. As a result, any adjustments from within the control center software automatically adjust to their correct position.
The FX voice changer area features six buttons for your custom effects presets, four dials (for EQ, Echo, Pitch, etc.), three buttons for pre-installed effects, and an FX on/ off button beneath. If you're wondering what the pre-installed effects are, these include Microphone, Robot, and Hard Tune.
The next section on the bottom right of the interface is the playback sampler. Here you'll find four buttons in the shape of a square with a "clear" button in the center. Additionally, there are three profile buttons (A, B, and C) for assignable banks, and a beep and a mic mute button to the right.
You'll be glad to know that the playback sampler is incredibly easy to use. Recording a voice sample simply involves holding down one of the empty pads in the square and then tapping it again to play it back. It will then save until you press the clear button in the center to return it to its default state.
Software
All additional customization to either the multi-channel mixer, FX voice changer, or playback sampler is possible in the software. The voice changer tab has fine settings for each of the six effects presets; while the playback sampler tab lets you drag and drop audio samples onto each of the buttons.
The channel mixer tab is just as simple to use. Conveniently, it asks you to select your mic type, which will then turn on 48V phantom power (if you're rolling with a condenser mic). After that, you can then tune your microphone sound by adjusting the EQ, compressor gate, or de-esser, etc.
Power/ Inputs
In terms of specs, the GoXLR has a 24-bit bit depth, a 48-kilohertz sample rate, and an incredible 72 decibels of gain. The gain sounds nice and clean with little to no preamp noise until you are basically at the maximum. As a result, it replaces the need for a Cloudlifter or a similar pre-amp device.
Finally, the GoXLR has a whole host of inputs and outputs on the back of the device. You will find an XLR jack, two 3.5mm stereo jacks for line-in and out, and two 3.5mm microphone/ headset jacks. Additionally, there's a USB input and an optical input for use with an external gaming console.
Overall, the full-size GoXLR is a dream for gamers and is no doubt the best audio mixer for Twitch streaming. However, if you're a podcaster or Youtuber, we would instead recommend one of the previous two options.
---
What is an Audio Mixer for Streaming?
Audio mixers combine multiple audio sources into a single signal. During this process, the mixer allows you to monitor and adjust the balance of each individual audio channel with various physical controls. Many mixers also feature their own powerful software that extends the functionality.
Mixers used for streaming give you full control over multiple audio feeds, such as background music or gameplay. You can adjust the equalizer settings as needed, or you can mute and unmute audio sources with greater ease. The same EQ and mute settings can be applied to microphones, too.
Mixers come in analog and digital versions, and you can use either one for streaming.
Analog mixers only one function per control and feature fewer buttons and dials. Their simplistic design attracts many beginner streamers. This type of audio mixer lacks the customization options of a digital mixer and they usually offer fewer external device connections.
A digital audio mixer offers multiple functions per control, and usually has more connectivity features and customization options. While these do cost more and are generally more complicated to understand, the additional features make this the preferential mixer for streaming.
---
Why Do Streamers Use Mixers?
Sound plays a major role in the effectiveness of a stream. By using a mixer, streamers can control the audio to help them communicate with and hold the attention of their audience. Modern mixers may also feature FX voice effects controls and onboard soundboards that help them achieve this.
Mixers control the level of sound coming from different devices. For example, reducing things like background music so their viewers can only hear their narration. This ensures that the stream maintains a certain audio balance without adjusting what the streamer hears.
Mixers keep all these controls close as hand, too. A streamer can easily mute a microphone with a push of a button. In addition, they can adjust the in-game volume for the audience on the fly without digging around in their streaming software's VSTs.
Most mixers pair seamlessly with streaming software like OBS or Streamlabs. As a result, there are not going to be any compatibility issues between the mixer and their streaming software. Once streamers are ready to go live, they can simply plug in their audio devices and get right to business.
The best mixers even include their own software that extends the functionality of the mixer. This is where you would fine-tune the EQ settings and compression of your audio inputs.
Some mixers provide sub-mix functionality built into their software, as well. Sub-mix controls allow the streamer to listen to the same audio channels (or different) as their audience at lower or higher volumes than what is currently broadcasting. For instance, they can listen to their own music during the stream, which the audience then won't hear.
---
How to Choose the Best Mixer for Streaming
Determine what level of control you want before shopping for the best mixer for streaming. Understand that mixers with more features usually cost more, and you don't always need the best audio mixer on the market.
Instead, choose one that meets your specific needs while offering you room for growth.
Channel Count
The channels of a mixer refer to the different signal paths that your audio travels. Each source of sound should have its own channel.
Mixers with a greater number of channels cost more, but you don't need many for streaming. Three channels should suffice, but this number changes based on what you need to input and whether you anticipate needing more channels in the near future.
Power
Power is not a major concern unless you use an XLR/ condenser microphone while streaming. These devices rely on high levels of gain and 48V phantom power that come from the preamp.
Ensure that the audio mixer is capable of providing appropriate phantom power to your condenser microphone. In most cases, 48V will suffice.
Tuning/ Equalization software
Most mixers offer some degree of control over your sound, allowing you to tune it to fit your needs. Equalizer knobs allow you to adjust specific details, such as bass or treble, to ensure that the audience hears everything in the way you intend.
While you don't need fancy tuning or equalization controls, you may be able to unlock extra features using software compatible with your mixer.
Inputs/ Connection Types
Make sure your mixer has input sockets that suit your audio equipment. This includes USB ports, XLR sockets, 3.5 mm jacks, and even Bluetooth capabilities.
Ensure that the mixer you choose for streaming has an adequate number of appropriate ports for your devices.
Features
Most mixers offer additional features, such as buttons for presets or instant muting on certain channels.
Check into the preamp specifications of the mixer before settling on a specific model. The preamp boosts low-level frequencies without causing distorting, bringing everything to the same base level.
While most modern mixers feature a built-in preamp, they don't all meet the same standards. You want to ensure the quality or consider using an external preamp.
FX Voice effects, Soundboards, and sub-mix functionality within the software are other great features that modern mixers integrate.
Size
Check the dimensions of the mixer to ensure it will fit comfortably on your desk. Your audio mixer should sit nearby so you can adjust the audio during your stream.
You want something small enough to leave free space and prevent clutter, but large enough to offer the features and controls you desire.
---

We hope you found an audio mixer for streaming on this list.
Click here for the 13 best GoXLR Alternatives!
Click here for the best Laptops for Streaming!






Image credit:
Photo by Marco Verch on Unsplash
---